2017 Annual General Meeting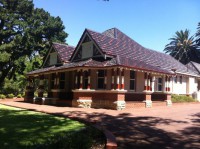 From October 29, 2017 11:00 until October 29, 2017 14:00
The AGM will be held at Mt Eliza House Kings Park on Sunday October 29 commencing at 11.00. Lunch will be provided. The following positions are open:
President
Vice President
Treasurer
Secretary
Webmaster
Regional Representative
Membership Officer
Assistant Secretary / Editor Horse's Mouth
Welfare Officer
Committee Members
The plan for before the AGM is to carry out a "The Buddies Memorial Trail" as part of Veterans Health Week which has the theme of Physical Activity
Participants will meet at the venue and will be transported to their chosen walk site with transport suitable for their fitness. Guides will provide a commentary and will act as supervisors for that walk. The walk will conclude back at the House for a spit roast BBQ and guest speakers will address the audience on Veterans issues. The activity will conclude with the conduct of the AGM.
The following walks are scheduled:
Kokada Trail walk tour for fully fit members
Lottery Federation Walkway Tour for the adventurist spirits
Kings Park Memorial Walk For medical restricted pers
The chosen walks represent different physical Activity Levels and mates/buddies will enable those less able to be able to participate in an outdoor activity while renewing old mateships and bring the veterans together with newer members of the Association.