VIETNAM DAY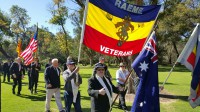 From August 18, 2018 10:00 until August 18, 2018 14:30
Attention ALL Vietnam Veterans
This year, Vietnam Day activities will be conducted on Saturday 18 August to coincide with the anniversary of Long Tan. It would be great to see as many of our group in attendance. We have had a significant drop in numbers of late. Whilst it is understood that there are many legitimate reasons for this, I encourage you all to network with each other in sharing this information and possibly supporting each other to attend.
As usual we will march, (a short distance) under our banner and take part in the official proceedings.
Arrive at The Vietnam Memorial by 1000 hrs.
Form Up at 1030 hrs.
Official Ceremony Commences at 1100 hrs.
At the conclusion of proceeding you are invited, with partners, to attend a lunch at a selected eatery/hotel. Depending on responses, I will make a booking and advise these arrangements.
Please rsvp to me as soon as you can.
Phil Pitchers
0403 342 105
Email: This email address is being protected from spambots. You need JavaScript enabled to view it.
Details:
Saturday 18th August
Kings Park Vietnam Memorial
Form up at 1000 hours
Parade at 1030 hours