Australian War Memorial honours Aboriginal and Torres Strait Islander ex-serving members in new exhibit – For Country, for Nation

The Australian War Memorial has opened a new exhibition, For Country, for Nation, commemorating and exploring the military experience of Aboriginal and Torres Strait Islander peoples.
Indigenous Australians have served with honour among our military forces. The exhibition comprises a diverse range of art, objects, photographs and stories from across Australia that demonstrate their service.
For Country, for Nation is thematic in structure. Stories of the Aboriginal and Torres Strait Islander experience during wartime and peace are told under the following themes:
- we remember
- warrior strength, diplomats patience
- all heroes, our stories
- communities on the front line
- full rights as citizens
- our cultures continue.
The exhibition will be on display for the next year. For more information visit the Australian War Memorial website https://www.awm.gov.au/
Oringinal Article was supplied from DVA E News. Click HERE to see this article and others.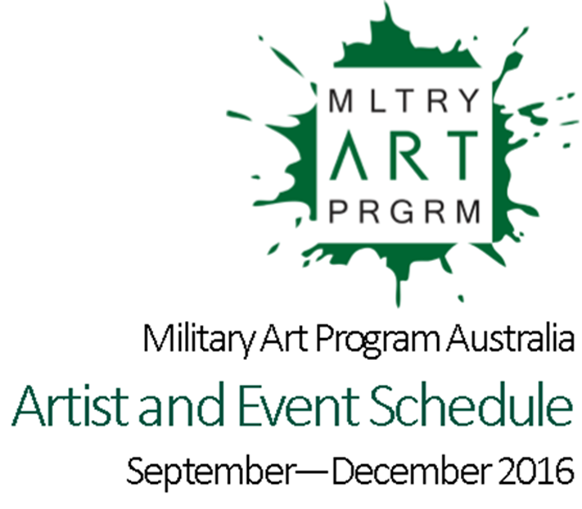 Due to the ongoing success of the Military Art Program, the schedule for September - December 2016 is no out!
The Military Art Program Australia is a not for profit organisation developed from a desire to provide access to greater services and free classes in arts, for the benefit of current and former serving Defence Force veterans
The classes cater for skills from beginners to advanced allowing maximum participation and learning for all levels. No experience is necessary, whether you have been experimenting with art for a while, or you have never picked up a pencil or a brush before, these classes will provide skills and techniques for all skill sets with the focus to experience art.
Classes are conducted in relaxed environments, with like minded people from a familiar background. If you are current or former serving Defence personnel, we encourage you to give this a try. Your attendance will also encourage and support other veterans or mates to participate, who may be suffering as a result of service.
Clicke HERE to view the schedule and registration information
After a long week of bad weather mother nature put on a beautiful day to allow us to commemorate those who gave the ultimate sacrifice in Vietnam. Below are some photos of the day.

WA Community Newsletter
Spring is so close I can almost smell it. And with the weather warming up, those old injuries hurt a little less, so it's a great time to get out and be a part of the community.
There has been a bit going on behind the scenes so this issue is packed! Get into it!
The Military Wives Choir is not only for wives... but also siblings, girlfriends, mothers, aunties and children of a service member (over 18 years of age). Even acting/reserve service members can join if rehearsals and performances do not conflict with their work responsibilities.
The group has just started up and keen to encourage membership, not only for the obvious reason of having a choir but also to promote friendship, peer support, positive mental health and all that good stuff that I am sure you agree comes naturally when we join forces in community projects such as this. It also provides a very public show of support for our service men and women which you all know I am very keen to continue in everything I do. As a proud mum of a 3RAR soldier, this choir has a special place in my heart and it will be for my son that I sing.