Congratulations go out to CPL Godrick (Rick) Marillier for receiving 13CSSB RSM's "Junior NCO of the Year" award for 2015. The award was presented to Rick by the RSM on Tuesday evening in front of unit members.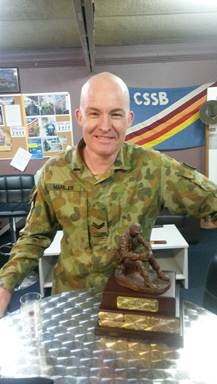 Whilst presenting the award the RSM cited Rick's leadership and mentoring skills, dedication and determination to his work as some of the factors that earned him the award.
The association would also like to congratulate Rick on maintaining the Corps' reputation as skilled and valued soldiers within the Australian Defence Force.