Welcome to the Website!
Welcome to the new RAEME Association of WA website. We have made some significant changes to the way the we manage information and how we interact with other fellow RAEME associations throughout the country.
Working with the National RAEME Association we have started to create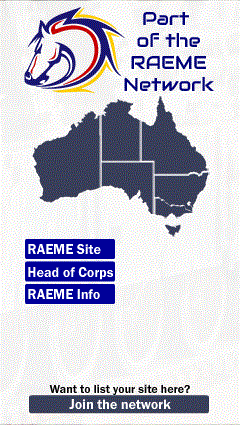 a similar look and feel for each of the countries RAEME Associations. Many of the associations have worked hard to maintain the content of their sites. Often the same information was being replicated time and time again of multiple sites. Some examples of this are the Vale, Sick Parade, Head of Corp articles, etc. The new site aims to lever off some of the current internet technology to allow us all to share the common infomation whilst allowing to maintain our own Association content.
So what does this mean?
The new website structure has now allowed us to build one central list of common documents that every RAEME Network Member can maintain and view. This means that if one state association enters information into the common repository, everyone will see it straight away. This will speed up the information sharing whilst reducing work for everyone!
So what is the RAEME Network?
The idea behind the RAEME Network is simple. There are many website out there that all have a specific focus on the Corps and then their respective Units, Sub Units, and Technical Support Units. The RAEME Network aims to link all of these sites together and to give each site a link back to the Corps itself through the National RAEME Association.
By linking all these sites together we can create a large and integrated web presence which will results in more visitors to our sites. Depending on what level of involvement you wish have with the RAEME Network there are other benefits to be had.
Key Features
Some of the key feature the new site offers are:
Events Calendar that is linked to from the National site. The national site will list all the regional events around the country. This will those travelling around the country to be able to quickly see if there is an event near by that can attend to catch up with fellow RAEME family members.

One single Vale list. This will be the central list for all Vale entries. This will help up to better manage our fallen members.

One Single Sick Parade List. This list will display those member who have been registered on the sick parade. The list will display their information and give you access to contacting the member for 90 days. This list will be shared Nationally.

Head Of Corp news letters will be published once and shared bay all.

Past RAEME Craftsan Magazines will be accessabole to all from one location.

Corp History will be placed on to the National Site for all to access. Of course each association can create their own Regional historical register if they desire!

Smart Advertising-Sponsorship options to help support our associations
We are getting stronger!
We believe that we are the first Corp in Australia to start building this level of regional association inergration. This integration allows are to better manage our limited resources whilst improving our communication Nationally. This will aid us in continuing to build a bigger and stronger corp community and family network well in to the future. Be sure to contact us and let us know what you think.