Vietnam Day/Long Tan Memorial 2022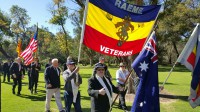 From August 14, 2022 09:30 until August 14, 2022 14:30
Attention ALL Vietnam Veterans
Ladies and Gentleman, (irrespective of the weather) our RAEME Banner will be hoisted high on Sunday 14 August 21 at the LONG TAN ceremony being held at the Vietnam Memorial in Kings Park.
Vietnam Day/Long Tan Memorial
Where: Vietnam Memorial, King's Park
When: Sunday 14 August 2021
Timings: Meet at 9:30/10:00am, Form Up at 10:30am, March Off at 10:45am, Service at 11:00am.
( We meet adjacent to the memorial, our Banner will be prominently and proudly displayed by the roadway).
Those wishing to attend lunch after the service concludes,( partners welcome),
at the Inglewood Hotel, 803 Beaufort Street, Inglewood.
Inquiries/RSVP to:
Phil Pitchers
0403 342 105
This email address is being protected from spambots. You need JavaScript enabled to view it.