NAIDOC Perth will honour our service men & women with a special Military Marching Band performance and the popular crowning of the Belle and Beau, Lady and Gentlemen for 2014, will also be a highlight.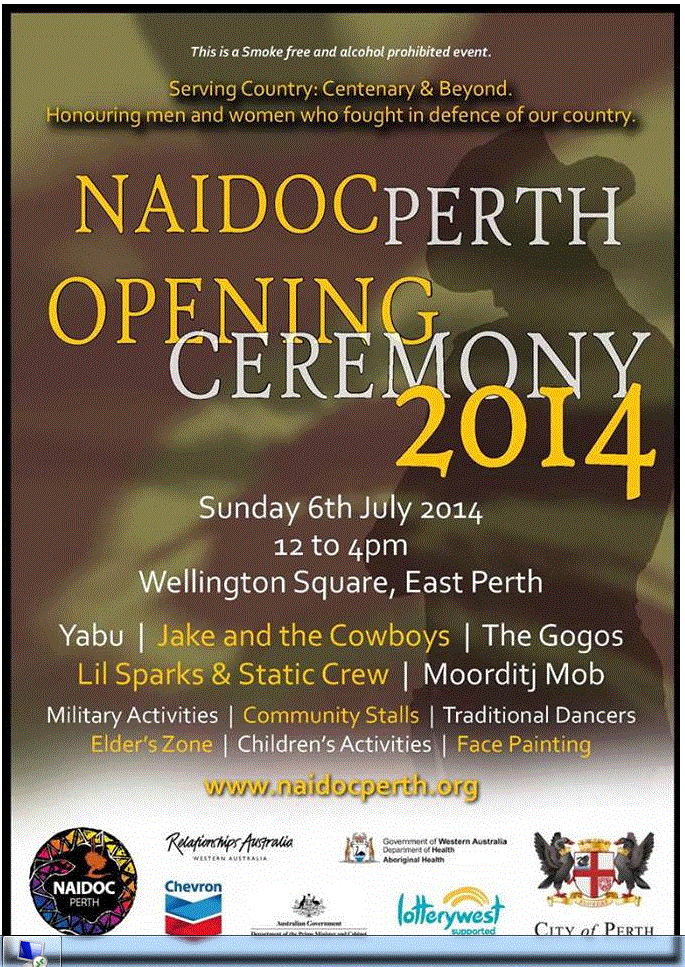 SPECIAL EDITION SPECIAL EDITION VETERANS' HEALTH WEEK 2014
What is Veterans' Health Week?
Veterans' Health Week will be held between the 13th and 19th October 2014 and provides an opportunity for veterans, war widows, widowers, current and ex-Australian Defence Force members and their families to participate, connect and influence the health and wellbeing of themselves and their friends.
See HERE for more details.....
A new edition of the QLD RAEME Association Spanner News has been released. It can be viewed HERE.
Good Morning everyone.
This is to advise that Terry Milfull (ex RAEME) is in palliative care at Logan Hospital and won't be returning home. He is not a member of our Sub Branch but is well known to several of our members.
I have advised the 173rd Airborne Assoc., to which he belongs.
Terry has been placed on the Sick Parade Rollbook. Please see HERE.
Regards,
Allan Ploenges
President
Springwood Tri-Service
RSL Sub Branch