After a long week of bad weather mother nature put on a beautiful day to allow us to commemorate those who gave the ultimate sacrifice in Vietnam. Below are some photos of the day.
The Military Wives Choir is not only for wives... but also siblings, girlfriends, mothers, aunties and children of a service member (over 18 years of age). Even acting/reserve service members can join if rehearsals and performances do not conflict with their work responsibilities.
The group has just started up and keen to encourage membership, not only for the obvious reason of having a choir but also to promote friendship, peer support, positive mental health and all that good stuff that I am sure you agree comes naturally when we join forces in community projects such as this. It also provides a very public show of support for our service men and women which you all know I am very keen to continue in everything I do. As a proud mum of a 3RAR soldier, this choir has a special place in my heart and it will be for my son that I sing.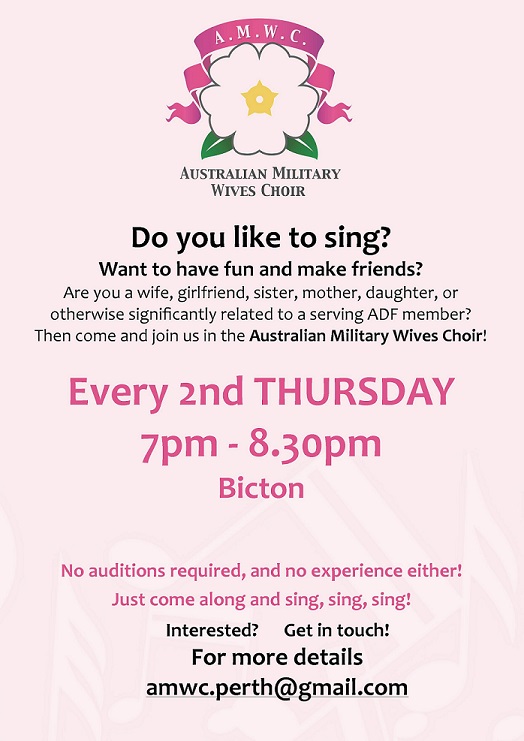 The 100th Anniversary Commemorative Service of the
Battle of Delville Wood
To Be Held
Wednesday 20th of July 2016
1100h
Venue
Flame of Remembrance – Kings Park
July 2016 marks the centenary of South Africa's equivalent of Gallipoli, the Battle of Delville Wood one of the bloodiest battles of World War 1 and where the fighting qualities and tenacity of the Rhodesian and South African soldier was born.
All ex-servicemen and women are requested to wear their medals

We are dedicated to supporting our service men and women who have suffered as a result of their service to our country and it is with great pleasure that we invite you to our Open Day at our Floreat Reintegration & Recovery Centre to explore our new centre and learn more about what Soldier On are doing to support service affected personnel in WA, as well as opening discussion on how we can collaboratively provide a better future for our people. This invitation only session is also an opportunity for key stakeholders, sponsors and supporters to provide feedback to Soldier On about how we can improve our systems and activities to better support those in need.
Click HERE for all the details!