Ladies and Gents,
All Event, Birch Carroll and Coyle and Greater Union Cinemas in Australia offer free tickets to our Veterans as their way of showing appreciation for veteran's service. Unfortunately you cannot book these online, as it would then allow those who do not have the proper card to try and access the free ticket. It is only a service we offer in store.
This information is not given on their websites, nor is it given on the Department of Veterans Affairs website. To receive your complimentary tickets you will need to be a holder of a Gold Card which is endorsed with TPI, EDA, or War Widow.
The tickets are only offered Monday through Friday, once per day. The offer of a free ticket is not valid for movies on the "No Free Tickets" list, or for 3D, VMAX, Gold Class, special events and Movie Marathons.
Hope this is of some help to RAEME mates.
Kind Regards
Raymond Norman
The Spring edition of Vetaffairs is now available online. This issue is full of recent DVA and veteran news, as well as useful health and wellbeing information and tips.
The full Spring issue of Vetaffairs is available online for download here – http://www.dva.gov.au/about-dva/publications/vetaffairs/vol-31-no3-spring-2015
Some of the stories covered in this issue include:
Mothers in the MEAO
The deployment of Australian female service personnel to areas of conflict is a relatively recent occurrence. Around 3000 women were deployed to the Middle East Area of Operations (MEAO) between 2001 and 2009.
Pensions and allowances rise
Veterans' pensions were increased from 20 September 2015 following the latest round of indexation adjustments.
News from the Minister
Newly appointed Minister for Veterans' Affairs, The Hon. Stuart Robert MP, outlines six priorities for veterans' affairs over the next 12 months.
Congratulations go out to CPL Godrick (Rick) Marillier for receiving 13CSSB RSM's "Junior NCO of the Year" award for 2015. The award was presented to Rick by the RSM on Tuesday evening in front of unit members.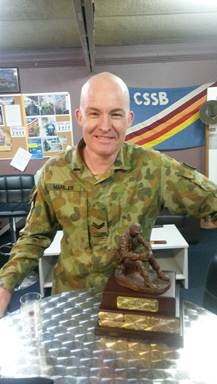 Whilst presenting the award the RSM cited Rick's leadership and mentoring skills, dedication and determination to his work as some of the factors that earned him the award.
The association would also like to congratulate Rick on maintaining the Corps' reputation as skilled and valued soldiers within the Australian Defence Force.
Dear Friend of the Trust,
I wanted to write to you to let you know that the Bravery Trust is the new business name for the Australian Defence Force Assistance Trust.